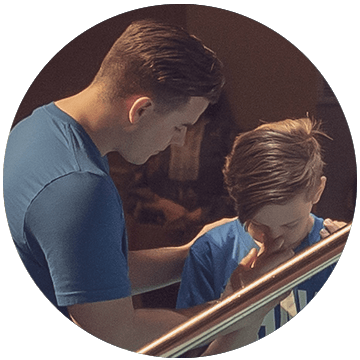 Inside Out Kids Ministry
The Vision
At Inside Out we promote an environment for a child to be known and cared for while encountering the transformative love of Jesus through worship, teaching, and time invested from our leaders.
The Core Values
Every child will feel known, loved, and cared for.
Everything we do will encourage relationship with Jesus and each other.
We partner with families to help foster spiritual growth.
We make church a ton of fun!
---
Ministry Areas
Starting Blocks (6 weeks – 2 years)
Caring for and loving our little babies is a powerful way to minister into their lives! We are not just baby sitters – on the contrary, we want to apply specific teaching elements to help them grow in their spiritual walk.
Inside Out Preschool (3 years - kindergarten)
This ministry begins utilizing teaching, songs, and crafts as an avenue for investing into toddlers and young children's lives about God and His kingdom.
Inside Out Elementary (1st - 3rd grade)
The young school-aged children need a special formula of fun and foundation to engage them in the basics of the Christian faith! It is vitally important for our kids to know all the classic Bible stories, as well as understand that God knows and loves them deeply.
One-Way (4th - 6th grade)
This is a place for workers to lead pre-teens into a deeper understanding of Biblical truths. Leaders challenge kids to own their faith and to live it from the inside out with a Kingdom purpose.
Cornerstone (6th grade)
Each year our 6th Graders experience a special training program entitled "Cornerstone." Before moving on to junior high, our 6th graders participate in a five-month study where they review ten foundational concept areas including: God, the Bible, the Holy Spirit, the Church, salvation, water baptism, and more.
Inside Out Kids Welcome Point
The purpose of our Welcome Point is to warmly greet our first-time guests, direct them to the appropriate ministry, and answer any questions they may have about how we care for their children.
---
What We're Learning
The Gospel Project takes kids on a Christ-centered, chronological journey through Scripture. Kids will discover how the gospel unfolds from Genesis through Revelation. When kids truly experience the gospel, their hearts are transformed.
• Check it out! https://www.gospelproject.com/kids/
---
Keeping Our Classrooms Safe
Safety is our first priority with Inside Out Kids.
Safe and Secure
Your child's safety is ensured through a secure check-in system and dependable volunteers. We ask that all children are securely checked in by an adult at one of our welcome centers. Upon checking in, a security sticker with the child's name, classroom assignment, and a four-digit code is printed and secured on the child's clothing. Parents receive a matching security tag that must be shown when picking up children.
All volunteers serving in our ministry have submitted a volunteer application and passed a background check before serving. Security cameras are also located throughout the Kids Ministry building. We also collect parents' phone numbers in case we need to reach you during the worship experience.
Check-in
Your child is important to us. On your first visit, we need the following personal information: parent/legal guardian names, children's names and birth dates, address, phone number, and any special instructions such as allergies or other special needs for each child. This information is entered into our database to help maintain our secure check-in system.
Check-in / Check-out Times
Check-in opens for all Inside Out Kids programs 20 minutes prior to the start of each service. Check-out closes 10 minutes after the service dismisses.
Wellness Policy
To ensure a safe and healthy environment for every child, we request that parents take responsibility for making sure their children are well before coming to church. Please make sure children are symptom-free for at least 24 hours before bringing them to their class.
---
Plan A Visit
How Check-in Works
When you arrive at Community Christian Church, you will be welcomed by one of our greeting team members. Let them know you are new and have children who will be checking into our Kids Ministry classes. They will direct you to our Welcome Point Desk where our team will get your children registered for class and give you a tour of our children's wing. This team can answer all of your questions about the ministry and will walk you through our child safety measures as well as our secure check-in/check-out process.
Service Timeline:
9:40AM - The classrooms are opened and ready to receive children.
10AM - Service time begins
11:15AM - Main service is released and parents begin arriving to pick up children.
Let us know you're coming!
Fill out a form for your family by clicking the card below. We would love to help your visit be easy and enjoyable!
---
Quick Links