What's happening this Sunday?
---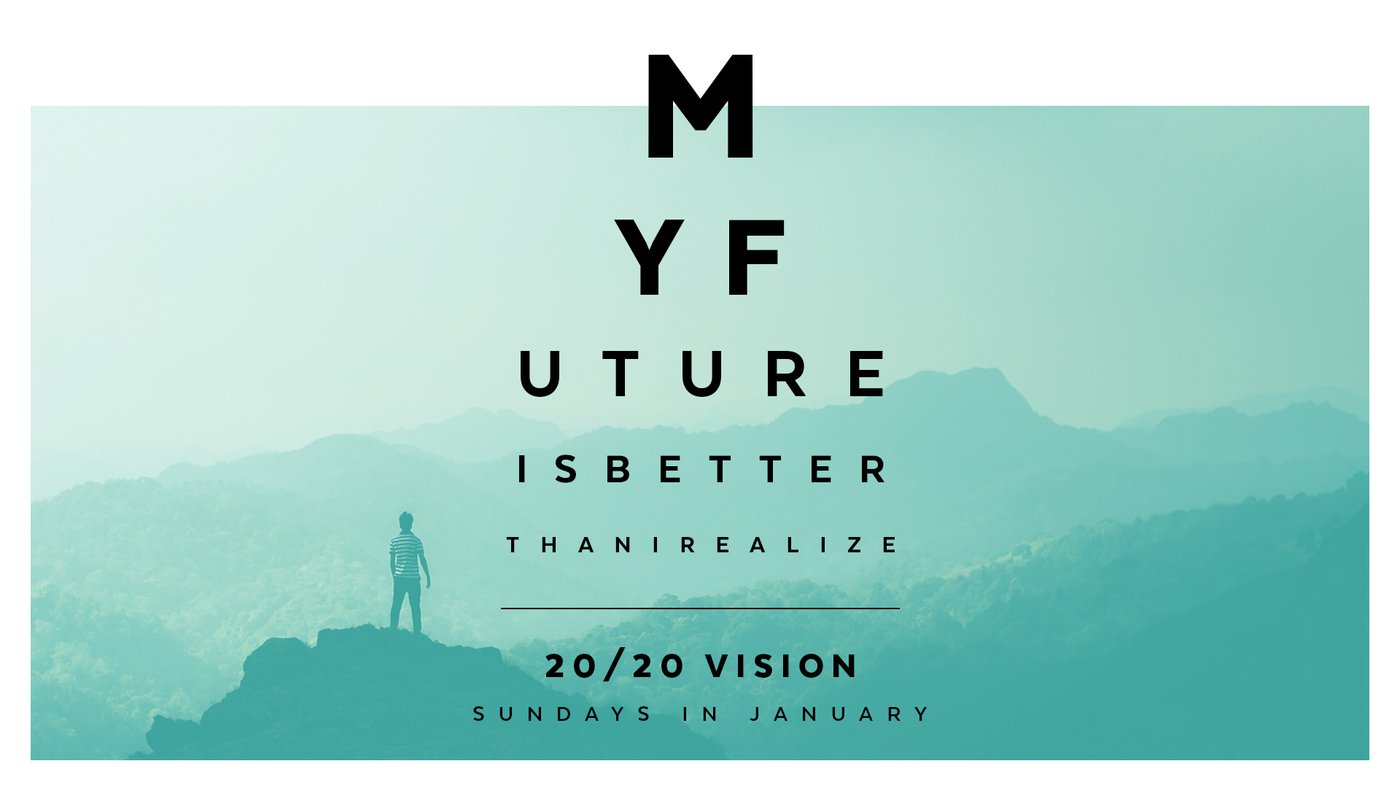 How well do you see your future? Is it going to be another repeat of your past? Does God have a better path planned ahead for us? In this series, we are going to explore what it means to have 20/20 vision for this very special year of 2020. Your future is better than you realize!
---
20/20 Vision: Part Three
PASTOR TONY REA - JANUARY 19, 2020
---
Philippians 3:12-15
Not that I have already obtained all this, or have already arrived at my goal, but I press on to take hold of that for which Christ Jesus took hold of me. Brothers and sisters, I do not consider myself yet to have taken hold of it. But one thing I do: Forgetting what is behind and straining toward what is ahead, I press on toward the goal to win the prize for which God has called me heavenward in Christ Jesus.
All of you who are mature should take such a view of things. And if on some point you think differently, that too God will make clear to you.
Philippians 2: 9-11
Therefore God has highly exalted Him to the highest place
and has given Him a name above every name,
that at the name of Jesus every knee shall bow,
in heaven and on earth and even under the earth,
and every tongue confess that Jesus Christ is Lord,
to the glory of God the Father.
Philippians 3:10-11
I want to know Christ and the power of His resurrection and the fellowship of sharing in His sufferings, becoming like Him in His death, and so somehow attaining to the resurrection from the dead.
2 Kings 19:14
Hezekiah received the letter from the messengers and read it. Then he went up to the temple of the Lord and spread out the letter before the Lord.
2 Kings 19:15-19
…"O Lord, God of Israel, enthroned between the cherubim, You alone are God over all the kingdoms of the earth. You have made heaven and earth. Give ear, O Lord, and hear; open Your eyes, O Lord, and see; listen to the words Sennacherib has sent to insult the living God."
"It is true, O Lord, that the Assyrian kings have laid waste these nations and their lands. They have thrown their gods into the fire and destroyed them, for they were not gods but only wood and stone fashioned by human hands. Now, O Lord our God, deliver us from his hand so that all kingdoms on earth may know that You alone, O Lord, are God."
Galatians 6:7-8
Do not be deceived, God cannot be mocked. A man/woman reaps what he/she sows. The one who sows to please his/her sinful nature, from that nature will reap destruction...
John 19:26-27
When He saw His mother there and the disciple whom He loved standing nearby, He said to his mother, "Dear woman, behold your son." And to the disciple, "Here is your mother." From that time on, this disciple took Mary into his home.
Missed a message?